Value proposition: the gift of time 
Brought to you by Croydon Health Services Library and Knowledge Services Manager and guest bloggers.

It's wonderful to share all the amazing work we are doing at Croydon Health Services NHS Trust Library and Knowledge Service to support our Trust objectives and the Health Education England Quality and Improvement Framework
Life has been very different since COVID-19. However, something that hasn't changed for us is how busy we have been in the Library helping all our colleagues, both clinical and non-clinical to look after our patients and each other.
That's why it's wonderful to read HEE's report, and comments from CILIP's CEO, Nick Poole detailing how valued NHS library services are and how many benefits our specialist services give our staff and patients.
Value Proposition:The Gift of Time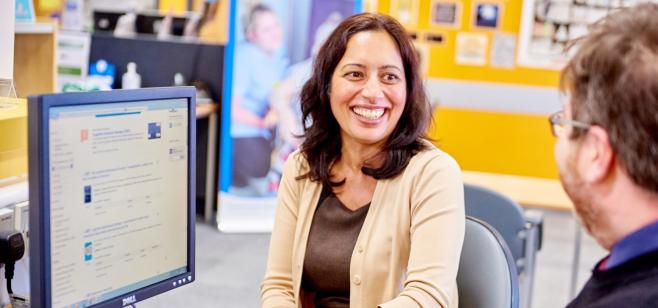 Ten key messages from the report:
NHS Library and Knowledge Services operate across a diverse and complex customer base.

The services provided take the 'heavy lifting' out of getting evidence into practice and give the 'gift of time' to healthcare professionals.

Informed decisions improve outcomes, quality of care, patient experience, resource utilisation and operational efficiencies. This is best achieved when healthcare professionals are supported by the right knowledge services, with the right resources and with the right teams and roles.

When supported by high-performing Library and Knowledge Services, NHS provider organisations are able to demonstrate how they are meeting their statutory obligations to use evidence to inform practice and hence improve their CQC ratings.

The core Value Proposition is simple: the service provides healthcare professional staff with time-saving accelerated access to better quality evidence which, in turn, enables the NHS to meet its statutory obligations to utilise evidence from research, and, as importantly, for healthcare professionals to use their time more effectively to drive improvements against the 

quadruple aim

Case studies of high-performing NHS Library and Knowledge Services demonstrate two key enablers for benefits realisation: they have a clear strategic leadership role in knowledge management and mobilisation and are integrated with service delivery.

There is a growing and consistent body of robust international evidence to support this value proposition.

Recently published research from the NHS suggests similar benefits do exist for the NHS. 

Assuming findings from the international literature are applicable to the NHS, the service is potentially already generating an overall economic [not budgetary] benefit of £132m per annum for the NHS, delivering a net economic benefit of £77m per annum. This could increase to £106m per annum were recommended staff ratios for librarians achieved.

Further high-quality NHS based research will help to quantify the 'gift of time' for healthcare professionals and the associated quality improvement benefits for patients, provided by NHS Library and Knowledge Services staff.
We are working hard to mobilise this and other evidence within our Trust using the knowledge mobilisation framework elearning techniques of learning before, learning during and learning after to support our Trust objectives and the QIOF
Contact information 
Twitter @NHSLibCHS, @MoragClarkson
Library links
Online Evidence and Knowledge Resources
Trust objectives the library is working to support 
Improve Health and Reduce Inequalities by providing safe, high-quality and timely care for anyone who needs our help ensuring they have access to the right service, in the right place, at the right time. To make an impact on longstanding health inequalities and support  people to stay healthy and well.
Provide High Quality Care by actively improving our quality of care and fostering a culture of harm-free care in our hospitals, in our community services and across primary care
Support Our Staff by improving the support we offer to bolster the physical and emotional health of our staff. To create an environment of continuous learning, providing opportunities for training, development and reflection to attract and retain talented staff
Sustainable Finances by getting the best value for money
Develop our Leadership by building on the success of the One Croydon Alliance and making Croydon Quality Improvement the way we improve everything we do
QIOF domains the library is working to support
Outcome 1: All NHS organisations enable their workforce to freely access proactive library and knowledge services that meet organisational priorities within the framework of Knowledge for Healthcare
Outcome 2: All NHS decision making is underpinned by high quality evidence and knowledge mobilised by skilled library and knowledge specialists.
Outcome 3: Library and knowledge specialists identify the knowledge and evidence needs of the workforce in order to deliver effective and proactive services
Outcome 4: All NHS organisations receive library and knowledge services provided by teams with the right skill mix to deliver on organisational and Knowledge for Healthcare priorities
Outcome 5: Library and knowledge specialists improve the quality of library and knowledge services using evidence from research, innovation  and good practice
Outcome 6: Library and knowledge specialists demonstrate that their services make a positive impact on healthcare